The Last Mission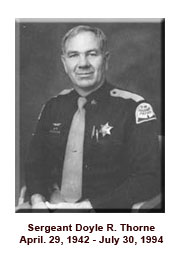 Shortly after noon on Saturday, July 30, 1994, Duchesne County Sheriff Merv Gustin was summoned to Indian Canyon for the search of a missing two year old girl. Sara Jane McCleve of Snowflake, Arizona, became separated from her family while attending a reunion in the Alpine campground in Argyle Canyon near Duchesne, Utah. Deputies and Search and Rescue personnel from the Duchesne County Sheriff's Office responded to the scene to assist the family in a search for young Sara. After several hours, local aircraft were requested to help in the search. Raymond LeMeuiux of the Civil Air Patrol joined the search.
Sara McCleve was wearing a pink blouse, bib-overalls, and pink shoes. Her mother had tied bells onto her shoes. Searchers were extremely anxious, due to several bear incidents in this area in recent years. After several hours of searching without success and knowing nightfall was approaching, Sheriff Gustin requested helicopter assistance. Sheriff Gustin had served over 24 years as a trooper with the Utah Highway Patrol, before accepting the appointment as Duchesne County Sheriff in 1993, so he was aware of the DPS helicopter capability.
A cold, unstable air mass was moving across Utah on July 30. This weather front was generating thundershowers, accompanied by strong mico-bursts of wind. Despite this adverse weather, Sergeant Doyle Thorne responded to Duchesne County without hesitation. Helicopters from the Fire Control Center of the National Forest Service, Life Flight, and Air Med also responded. At 6:15 pm, Sergeant Thorne radioed the Duchesne County Dispatch that he was "approaching the area." At 6:26 pm, Sergeant Thorne radioed that he was "half way up Indian Canyon." At 6:30 pm, dispatch advised that Sara had been found. The successful search for her had lasted six hours and 45 minutes. Sara had walked several miles, had lain down under a pine tree and cried herself to sleep.
Sergeant Thorne was thanked for his assistance. He radioed that he would be returning to Salt Lake City. Dispatch advised Sergeant Thorne of adverse weather in the Salt Lake area. At 6:50 pm, Sergeant Thorne broadcast a distress call. Sergeant Thorne radioed, "I'm having problems coming through the canyon. I'm below 10,000 feet. I'm losing power. I'm going into the trees." That was the last broadcast made by Sergeant Thorne.
Immediately after the distress call, Sheriff Gustin initiated a search for Sergeant Thorne. The Civil Air Patrol, Life Flight, Air Med, and ground units that were in the area looking for Sara, redirected their efforts to search for the DPS helicopter. A Department of Public Safety aircraft responded to the scene. The search by the aircraft continued until nightfall. Ground units continued their search until after midnight.
Commissioner D. Douglas Bodrero responded to the scene and established a command post. Deputies and search and rescue personnel from the Duchesne County Sheriff's Office, the Uintah County Sheriff's Office, troopers from the Utah Highway Patrol, a high country rescue team, air units from the Utah National Guard, Life Flight, the Civil Air Patrol, the Utah County Sheriff's Office, and citizens continued the search for Sergeant Thorne on Sunday, July 31, 1994. The search was centered around an area which was established from a radar "skin paint" that was given to the Civil Air Patrol (CAP) by the United States Air Force. The search area encompassed over 100 square miles. Weather hampered the search. Thunder storms developed in the afternoon with high gusty winds and rain. The aircraft were required to end their search prior to darkness because of the adverse weather. Ground searchers continued looking until close to midnight.
Monday morning, law enforcement personnel, ward members, friends, family members, and concerned citizens began an extensive ground search at first light. Air units including nine CAP fixed-wing aircraft and helicopters from the National Guard, Salt Lake County Sheriff's Office, Life Flight, KTVX and KSL Television scoured the area. At 5:30 pm, the Salt Lake City Flight Control Center relayed information that they had plotted transponder reports from the aircraft to the Strawberry Peak area. The ground search was intensified in that area, but gusty winds prevented any search by aircraft. The ground search continued until around midnight.
On Tuesday, at 6:00 am, six helicopters, 300 plus ground searchers, and other fixed wing aircraft concentrated their search efforts in the Strawberry Peak area. Heavy vegetation and rough terrain hampered the search effort. At 2:30 pm, Utah Army National Guard pilot Chief Warrant Officer Lewis C. Olson was searching the area in a UH-1 "Huey" helicopter. One of his observers, Utah Department of Investigation Lieutenant Mitch Ingersoll asked Olson to simulate maneuvers he would have to make if the aircraft were in trouble. CWO Olson banked the craft and dipped sharply. Lieutenant Ingersoll then saw a black and white rotor blade in a grove of thick trees. A second pass located the brown and gold fuselage of the downed DPS helicopter. Ground crews that hiked to the location discovered that Sergeant Thorne had not survived the crash.
Doyle Thorne was survived by his wife, Luci; two daughters, Kim and Krista; and two sons, Kameron and Devan. Sergeant Thorne used his skills as a peace officer and a pilot to safeguard lives. He lost his life while serving others. During Doyle's funeral on August 6, 1994, his brother, Brent, stated, "He was a common man who performed many uncommon acts of valor."