History – 1990-2000: Overview / Changing Tactics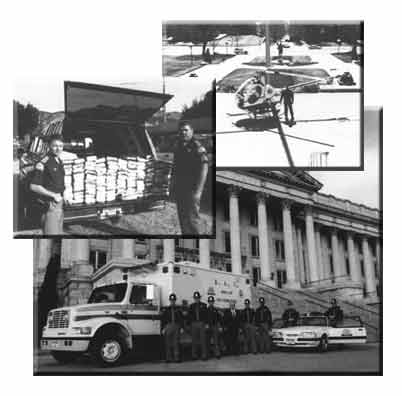 1990
Reorganization of the port of entries transfers responsibility from the Utah Highway Patrol to the Department of Transportation. The UHP issues Heckler & Koch, MP 5, sub-machine guns to 18 field personnel. The Truckers and Troopers (T n T) program is implemented.
1991
The Department of Public Safety purchases two Hughes OH 6 "Cayuse" observation helicopters and opens the Emergency Vehicle Operations Training Center in Utah County. Kathy Slagowski becomes the first female sergeant, promoted on August 14, 1991.
1992
Trooper Joseph S. "Joey" Brumett is killed on December 11, 1992. The UHP Breath Alcohol Testing Program places the Breath Analyzing Testing Mobile Unit (BAT- mobile) into operation. The Utah Highway Patrol purchases 22 Chevrolet Camaro pursuit vehicles as part of a test program.
1993
Trooper Dennis L. "Dee" Lund is killed on June 16, 1993. The UHP adopts six values representing the six points of the badge. These values are integrity, service, knowledge, professionalism, teamwork, and courage.
1994
Sergeant Doyle R. Thorne, Aero Bureau helicopter pilot, is killed on July 30, 1994. The Utah Highway Patrol implements a DUI squad, patterned after the "ASAP" crews of the 1970s. The Civil Disorders Unit is organized. Public Information and Education programs are implemented in each section of the Utah Highway Patrol. Trooper Randy K. Ingram is killed on October 5, 1994. The department issues "O. C." (oleoresin capsicum solution) spray to sworn officers.
1995
The department adopts a centennial badge to be worn during 1996 only. The state of Utah receives the bid for the 2002 Winter Olympics. The UHP issues 250 M-14 military surplus rifles to field troopers and sergeants.
1996
Utah celebrates 100 years as a State. The UHP implements section 16, a full-time DUI, motorcycle and SERT team.
1997
The department transitions to a new sidearm, the Beretta Cougar 8040D – a .40 caliber semi-automatic in double action only.
1998
The UHP adopts a policy that every trooper and sergeant will be Emergency Medical Technician (EMT) certified. The UHP also adopts the ASP collapsible baton and phases out the wooden baton.
1999
The department adopts an alternate carry policy allowing officer to qualify and carry several approved
semi-automatic pistols in 9mm, 40 S&W, and .45 ACP.
2000
The department issues an Olympic badge to be worn until the conclusion of the Salt Lake City Winter Olympics.