Emergency Medical Services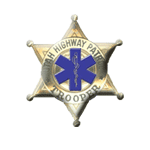 The Utah Highway Patrol provides Emergency Medical Technician (EMT) training for its troopers.
Emergency medical services are provided by the Utah Highway Patrol because troopers are usually the first EMS providers on the scene of an accident or illness out on the highway.
LDS Hospital, a division of Intermountain Health Care, is our base hospital.
For more information contact the UHP Training office – (801) 284-5500