History – 1980-1989: Coming of Age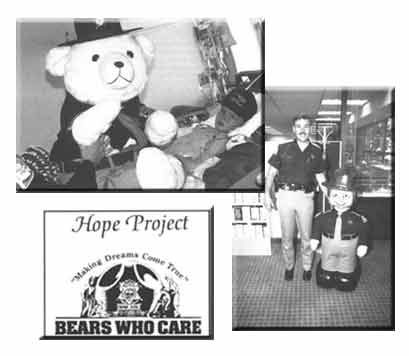 1980
The Utah Police Academy (POST) is finally built. The Utah Highway Patrol also moves into new offices near the police
academy.
1981
Troopers are allowed to grow mustaches. The UHP once again implements a motorcycle squad.
1982
The Utah Highway Patrol is selected as the best dressed police organization in the United States. DPS creates the Medal of Valor to recognize people who risk their life to save the life of another. DPS implements "career mobility," allowing troopers to serve in all divisions within the department. Trooper Daniel W. Harris is killed on August 25, 1982.
1983
The Patrol responds to several natural disasters including the Thistle mud slide. The UHP presents the first "Seat Belt Survivor Award." Utah and Arizona open the nation's first joint-state Port of Entry.
1984
Trooper Karla Conway becomes the first UHP trooper to give birth. The UHP is presented a special "United States Senate Award for Achievement," for their efforts in establishing the combined Utah/Arizona port of entry.
1985
Trooper Kathy Slagowski and Sergeant Doug Slagowski become the first husband and wife members of the UHP, married on January 11, 1985. Senate Bill 253, sponsored by Senator Richard J. Carling, establishes special license plates for UHP vehicles,complete with UHP beehive and trooper's badge number.
The Utah Highway Patrol celebrates 50 years as an agency with full police authority. The Utah Highway Patrol purchases Ford Mustang pursuit vehicles. UHP training includes emergency vehicle operation. The UHP obtains its first electronic officer, Trooper Tron.
1986
The UHP begins enforcement of a new seat belt law. "Operation Pipeline," criminal interdiction through traffic law enforcement, begins in Utah. The Utah Highway Patrol replaces the Smith & Wesson, model 27, .357 magnum revolver with the Heckler & Koch, P7 M13, 9mm semi-automatic pistol.
1987
The Utah Legislature directs the UHP to eliminate troopers from the Ports of Entry. Troopers are replaced by special function officers. The Utah Highway Patrol trains all personnel in criminal interdiction tactics. The "Arrive Alive" program is implemented. The national speed limit is amended to 65 mph on rural freeways.
1988
The Utah Department of Public Safety responds to Marion, Utah, in what becomes the longest siege to date in FBI history. The UHP relic car, a 1950 Ford, is added to the fleet. DPS creates the Special Emergency Response Team (SERT). The UHP Honor Guard is organized. The Aero Bureau adds a TH-55 training helicopter to its fleet.
1989
A dike at Quail Creek Reservoir breaks causing extensive damage in Washington County. UHP troopers are issued soft body armor and other equipment from seized drug money. DPS implements the Automated Fingerprint Identification System (AFIS). Members of the Utah Division of Investigation (UDI) and SERT join forces with the Utah National Guard during "Operation Greenleaf," a marijuana eradication program in southeastern Utah. The first Utah commercial driver licenses (CDL) are issued.