History – 1923-1939: Overview/The Early Years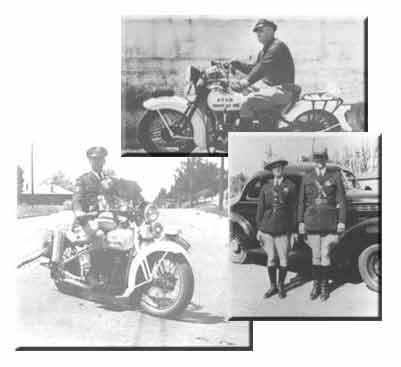 1923
The Utah State Legislature empowers the State Road Commission to patrol the highways of the State.
1925
The highways are patrolled on a part-time basis by two state employees, designated as "patrolmen." R. W. Groo, a civil engineer with the State Road Commission, is assigned to supervise and organize the patrols. The organization is known as the "State Road Police Patrol."
1926
The State Road Commission adopts a regulation requiring traffic to stop before entering an arterial highway. The first arterial highway is designated from Ninth South Street, in Salt Lake City to Fifth North Street in Provo. One patrolman is moved to full time status to enforce this new regulation.
1927
A second part-time patrolman is moved to full time status.
1928
Three additional full-time patrolman are hired. Uniforms and badges, are issued. The first uniform is forest green with a patch of a flying motorcycle wheel sewn on the left arm and on the hat. Smith & Wesson .44 caliber revolvers, with cross-draw holsters, are issued to patrolmen.
1929
The annual operating budget of the patrol is $11,743.06.
1930
The first portable checking station is created. It is a converted trailer.
1931
The first of four sections of the "Uniform Act Regulating Traffic on Highways" become Utah law. Patrolman George E. "Ed" VanWagenen becomes the first Utah Patrolman killed in the line of duty, May 23, 1931.
1932
The first permanent checking station is established on State Road 91 at Santa Clara. The uniform color is changed to navy blue.
1933
The organization is redesignated as the "Utah Highway Patrol." The ranks of superintendent, captain, lieutenant, and sergeant are established.
1934
The first driver license law becomes effective and the UHP is given responsibility for testing applicants. The Patrol has 30 sworn officers as of July 1, 1934.
1935
The 1935 State Legislature empowers the Utah Highway Patrol with statewide police powers. The Vehicle Safety Inspection Program is initiated. The annual operating budget of the UHP exceeds $100,000. The campaign hat is implemented.
1938
The duty weapon is changed to a .357 magnum revolver. Smith & Wesson revolvers are issued with 6 inch barrels. Winchester, Model 97, 12 gauge shotguns are also issued.
1939
A bill to create a "Utah Police School" in connection with the University of Utah, fails to pass the legislature. The Utah Highway Patrol coordinates a two week school, open to all peace officers in Utah, at Pinecrest Inn in Emigration Canyon. The Santa Clara checking station is closed. Responsibility for driver license testing is moved to the State Tax Commission