Trooper Daniel W. Harris
Daniel W. Harris began his career in law enforcement in 1972 as a Phoenix, Arizona, police officer. In 1975, he accepted the position of Police Chief in Parowan, Utah. One year later, he accepted employment as a deputy sheriff with Iron County. Dan joined the ranks of the Utah Highway Patrol on March 16, 1979. During his brief career with the Patrol, he served as a field trooper, as an internal affairs investigator, as a member of executive protection, and as a member of the motorcycle squad. Trooper Harris was an exceptional trooper. He possessed all of the qualities, skills, and abilities of a veteran officer. He excelled at whatever assignment he undertook.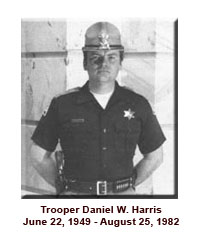 On August 25, 1982, Trooper Daniel W. Harris was working I-80 in Parleys Canyon. He observed a speeding westbound Corvette and began pursuit. Traveling near 100 mph, Trooper Harris failed to negotiate a turn and his 1981 Kawasaki motorcycle left the roadway and struck an embankment. Trooper Harris died due to massive head injuries. He was 33 years old and was survived by his wife, Andrea, two daughters and two sons. Following services in Salt Lake City, Dan was buried in Parowan. Trooper Harris was an exemplary police officer.
Sanpete County Deputy Sheriff Ross A. Nordell wrote the following poem which he dedicated to the Utah Highway Patrol Motorcycle Squad and Trooper Dan Harris.
Farewell To A Trooper
The golden motor stands idle, the rider gone away.
His comrades standing sadly by, they will not ride today.
Trooper Harris fell in duty, serving his beloved state.
Leaving four young children, his comrades, and his mate.
His helmet, wings, the shiny boots, the trademark of a man.
Trained for special service, part of the department's plan.
But Lord why did he go so fast?
The eagle just began to soar, and now we've lost a trooper,
and a friend we'll see no more.
Governors, colonel, troopers, officers o'er the State, I call you all to attention.
Stand, salute our mate, we must keep his memory sacred.
For his family we must provide, and every lawman everywhere,
should know why he has died.
He died, serving his ideals, making Utah a safer place.
He died a man, with honor, protecting the human race.
Troopers with the "Golden Motors" the State of Utah weeps.
But you must ride, and carry on, while your Trooper Harris sleeps.