First Quarter 2022
January 23, 2022
Trooper Soedel, Salt Lake County
"I was stopped and ticketed yesterday for something that was completely my fault but not intentional. (expired registration) The Trooper that stopped me was very courteous, answered my questions and understood my situation. (human error) We're not all perfect. Badge number 475. He is a credit to the highway patrol and a great example of how to deal with people." – H. Svboda
---
January 29, 2022
Trooper Reynolds, Grand County
Hello, I am writing simply to commend one of your employees. Yesterday (Saturday, 1/29/2022) my fiance Jordyn was involved in an unfortunate accident after being run off the road by a semi. Trooper Roger Reynolds showed up to help after she reported the accident. I came later, while Trooper Reynolds was still on the scene. He was a consummate professional, courteous, helpful, friendly, and kind to both Jordyn and myself. He is a credit to your department, and his excellence deserves to be mentioned to his superiors. Thank you for passing along my message." – A. Herman
---
February 3, 2022
Sgt. Hopper, Salt Lake County
"I would like to thank Sgt. Lawrence Hopper for going above and beyond his call of duty, by escorting my passenger safely to our destination on February 3,2022. Sgt. Hopper pulled me over for making an incorrect lane change and I was totally at fault for, and he assessed the situation so well and saw how flustered I was about getting my passenger to his doctor appointment on time. I just wanted to thank Sgt. Hopper and say, "well done, sir, and you have no idea what you did for me that day! I have so much appreciation for your ability to give assistance that was so needed. " I just feel like we need to recognize the good that is done by these officers, and I wanted you to know how grateful I am for Sgt. Hopper's service." – B. Reeder
---
February 10, 2022
Trooper Rowley, Salt Lake County
"Yesterday Trooper Rowley responded to a car accident on the 215 E.
I was one of the people involved. I suffer from extreme anxiety and I was in full panic mode on the verge of tears, when this Trooper approached my vehicle and not with his hand on his gun or a scowl on his face, but with a bright kind smile on his face and a genuine look of concern that I was ok
He was so open and kind that I felt no anxiety, I accept my citation, I didn't brake soon enough and hit a young man in front of me, both of us were ok.
I hope with all the respect due him and with sincerity you just give him a firm handshake and let him know to always be the kind and amazing Trooper he is. Thank you." N.C.
---
February 11, 2022
Sgt. Carlson, Davis County
"Hello, I was pulled over for speeding by Sgt. Carlson. Wanted to send a note regarding the excellent way in which the officer handled the incident. I am sure that pulling people over can be a thankless job, but Sgt. Carlson did a great job and was extremely professional and personable. Thanks" – B. Anderson
---
February 21, 2022
Trooper Hensen, Salt Lake County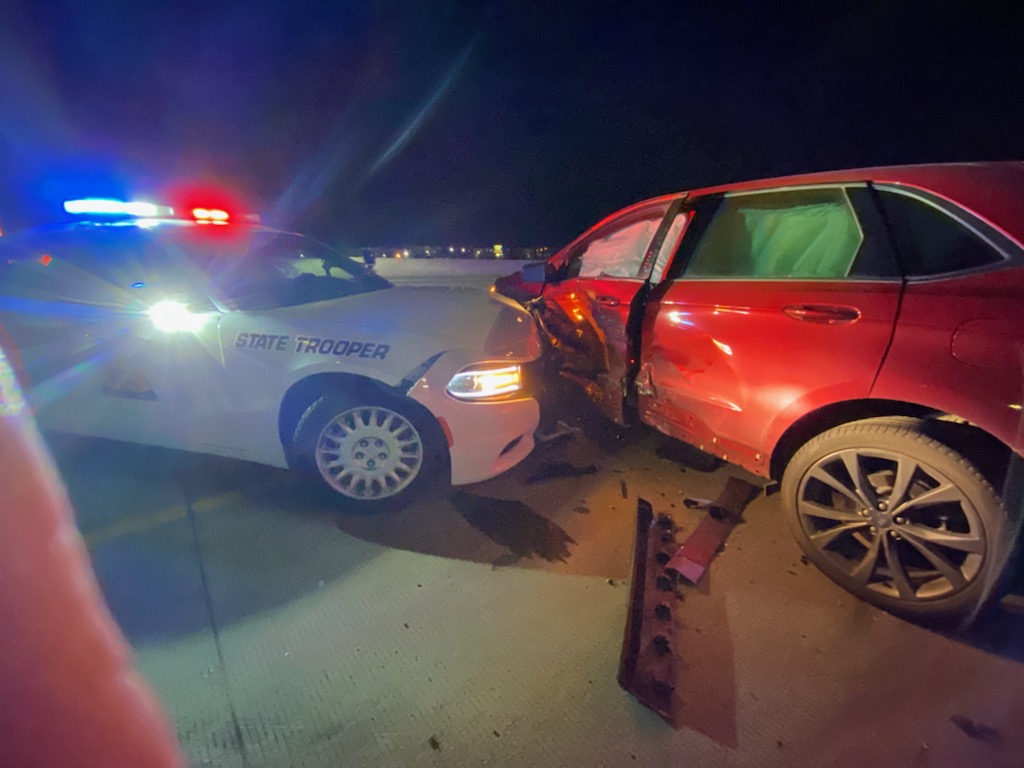 "I saw on the news yesterday that a person was driving on the wrong side of the freeway near 600 South around 4am yesterday. Trooper Hensen responded and had to crash his car into the driver's vehicle to stop him, and go injured in the process. I just wanted to thank Trooper Hensen for putting his life at risk. I am sure he saved someone's life by his quick thinking. To me it is a shame that the media spent maybe 30 seconds on that act of heroism yet won't hesitate to spend 5 minutes on a Jazz Player who missed the all-star game. Our cultures definition of heroes is messed up. Trooper Hensen, along with all the other HP troopers who put their own lives at risk to keep us safe are the real heroes. THANK YOU!" – R. Rhodes
---
March 9, 2022
Troopers Jensen and Saavedra, Salt Lake County
"I wanted to write you about an experience that I had last evening with Troopers Ricky Jensen and Brett Saavedra.  I called dispatch and the nice lady gave me your email addresses as she said they report into you guys.
You see, I landed very late at the airport last night and ordered an Uber to get home. Home is Park City and leaving the airport, I did have some hesitation with the driver that picked me up but he assured me he had snow tires and chains and he was experienced. Well, an hour later we are at a dead stop on I-80 in the treacherous road conditions, we were spinning out, stuck in the middle of the highway, etc., and I was so scared. Your kind officers arrived at our car and they were able to push us off the canyon road to the East Canyon exit.
That wasn't all! The guys could tell I was also very uncomfortable with everything and they shuttled me up to the top of the pass. This was after 1:00 in the morning. They made sure I was safe and ok and I just can't believe the effort they made for me. Since I was in the car with them, I also got so see firsthand how they were treating everyone. Calm. Cool. Collected…..and oh so kind. I was so impressed. These guys are the real deal.
I'm not sure if it's ok or appropriate to send some treats to your office to thank them, but if it is ok, would you let me know if I could do that and address, etc? I was thinking of some Crumbl cookies or some kind or treats but let me know.
Forever grateful for this amazing encounter, and thank you so much for finding gentleman like this to serve and protect the public.  If you witnessed and experienced what I did last night, you would be so proud to call these guys your colleagues." – A. Forsberg
---
March 19, 2022
Trooper Steiner, Summit County
"We just wanted to say how polite patrolman Jeffrey Steiner was when we unfortunately were pulled over for speeding. He was very professional and we just wanted to let you know what a good patrolman you have." – M. Franklin
---
March 22, 2022
Trooper Lofthouse, Summit County
"I'm writing to commend Trooper Lofthouse for doing great work. My family and I were traveling on I-80 near the summit last week and were unaware that the tailgate to our truck was down. We had been driving for some time when Trooper Lofthouse pulled us over and told us about the gate. He was very polite and helpful and likely prevented us from losing any gear on our trip. We appreciate his courtesy. It was a small thing but it saved us a lot of hassle." -T. Reese