First Checking Station
In 1930, the first portable checking station was created, in a converted trailer. The trailer was towed to strategic locations throughout northern Utah.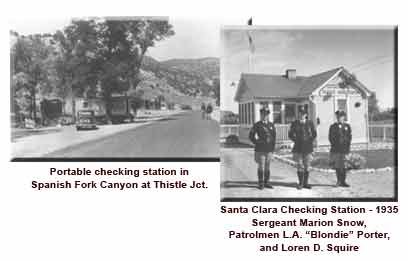 In February 1932, the first permanent checking station was built at Santa Clara, near the southern boundary of the state on US 91. A set of Fairbanks-Morse platform scales, 9 feet wide by 28 feet long and capable of weighing 20 tons, were installed. Patrolmen enforced the traffic code and highway revenue laws as well as issued license plates and additional load plates, collected gasoline tax, and compiled data for the Public Utilities Commission at this location. Temporary checkpoints were also performed intermittently by the portable checking station in North Ogden-Hot Springs, Grantsville, and in Spanish Fork Canyon. Despite a 12.8 percent annual increase in truck inspections for the next seven years, the Santa Clara checking station was closed on December 2, 1939. In 1939, the Santa Clara checking station had 186,036 vehicles pass over its scales.