Major Drug Busts
Often drug runners spend large sums of money on their vehicles. After all, when you travel hundreds of miles transporting drugs why not ride in comfort! Too often, these extra comforts lead to their downfall.
On October 8, 1991, Trooper Lance Bushnell observed a GMC super cab, dual wheel pickup truck with California plates northbound on Interstate 15 in Juab County. The vehicle had many extras such as a camper shell, bed liner, built in stereo, and dark tinted windows. Trooper Bushnell stopped the vehicle for the excessive window tinting and improper lane travel. Trooper Bushnell noted several inconsistencies which he documented as reasonable suspicion. He immediately requested backup. When backup arrived, Trooper Bushnell asked for consent to search. The driver replied, "I understand, go ahead." The driver and passenger then stepped out of the vehicle without even being asked. They probably felt that the compartments were so well hidden that the troopers would not be able to find them.
Trooper Bushnell has excelled in criminal interdiction during his entire career with the Utah Highway Patrol. Responding to assist Trooper Bushnell was Sergeant Paul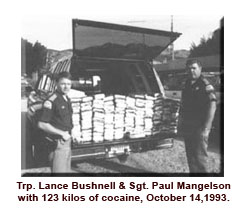 Mangelson, a drug smuggler's worst nightmare.Trooper Bushnell and Sergeant Mangelson located a hidden compartment behind the rear seat after moving carpeting which was used for concealment. The compartment door was activated by an electric solenoid controlled by a switch under the dash of the vehicle. This action revealed a large quantity of cocaine. While activating the electric solenoid, a second solenoid could be heard clicking in the back of the truck. A second hidden compartment was located under the pickup bed. To open this second compartment it was necessary to remove the rear taillight components. Again, the tools necessary to accomplish this task were located within the vehicle. A total of 123 kilograms of cocaine was discovered hidden in this vehicle.
Four State Drug Ring
Trooper Dene Kay made a routine traffic stop for speeding on Interstate 15, just north of the Utah-Arizona border on May 12, 1992. The investigation that followed proved to be anything but routine. After obtaining consent to search the leased 1992 Cadillac, Trooper Kay located nearly 100 pounds of marijuana in two foot lockers. He arrested the two California occupants. The men agreed to cooperate with agents of the Utah Division of Investigation, in exchange for a reduced charge. The two suspects, along with the marijuana, were flown to Minneapolis to complete the deal. As a result, two suspects were arrested in Minneapolis and a third man was taken into custody in Portland, Oregon.
"We really put a dent in a four-state operation," Trooper Kay said. "Once it got started, it was like a snowball. Every name seemed to lead to another."
Also seized were several weapons, more than $50,000 in cash, a vehicle, and at least one home. Putting the hurt on drug runners and dealers always puts a smile on a trooper's face.