Criminal Interdiction Update
On September 16, 1991, Sergeant Paul Mangelson stopped a 1990 Chevrolet super cab pickup for expired Illinois registration (6-91), just south of Nephi on Interstate 15. The driver produced a Florida driver license and stated that the vehicle belonged to a friend. The vehicle was registered to a Franklin Murphy. The driver and passenger could not tell Sergeant Mangelson the name of the registered owner. The driver was extremely nervous. Sergeant Mangelson also noted that there was very little luggage in the vehicle.
When Sergeant Mangelson looked into the rear wheel wells, he could not see any cross members of the pickup bed as should be the case with a vehicle which has not been altered. The truck had been recently undercoated. Some of the undercoating had sprayed onto the rear chrome bumper. This area above the bumper and below the tailgate should normally be painted the same color as the rest of the truck. All of these indicators were visible upon approach to the vehicle. These and other articular details provided Sergeant Mangelson with reasonable suspicion.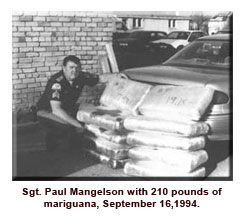 Sergeant Mangelson called for backup, and while waiting for his backup to arrive he completed a consent to search form. The driver signed this form willingly. Sergeant Mangelson first noticed that the gas fill spout had been extended by use of a rubber tube secured with radiator hose clamps. This area can easily be checked by looking into the wheel well adjacent to the fill spout. This simple check showed that the fuel tank had been lowered, indicative of a false compartment located beneath the pickup bed.
He also discovered that the top two bolts on the rear bumper were bright, shiny new bolts, while the bottom bolts were older and rusty. When the top bolts were removed, the rear bumper swung down, exposing a steel plate located directly below the rear tailgate which was secured by several screws. This modification had obviously been made after factory issue and is not standard.
The tools to remove the screws and the rear steel plate were located in the pickup truck and they also had fresh undercoating on them. Once the steel plate was removed, Sergeant Mangelson discovered 94 kilograms of cocaine. Other items found in the truck were a flashlight to aid in viewing the cocaine in this long, narrow hidden compartment and a squeegee bug sponge with telescoping handle to aid in retrieving the cocaine. In almost every seizure, the tools needed to locate the contraband are also located within the suspect vehicle.