Busted at Beaver
On April 14, 1994, Trooper Craig Gaines made the third largest cocaine seizure in the history of the the state of Utah. In many ways, this arrest was typical of many other criminal interdiction cases made by Utah peace officers. Officers are trained to make a legal traffic stop, look beyond the misdemeanor traffic violation for reasonable suspicion of additional criminal activity, and if appropriate to ask for a consent search.
Traveling northbound on Interstate 15, Trooper Gaines came upon a large Toyota U-Haul truck which displayed an expired Alabama plate (11-93). He attempted to initiate a traffic stop. The driver took nearly one-half mile to pull the vehicle to a stop. The driver was a 33 year-old male Colombian. The passenger was a 27 year-old female Colombian. Trooper Gaines noticed the driver's hands shaking excessively as he fumbled for the truck rental agreement. The cab of the truck had a strong odor of air fresheners. The driver stated he was traveling to Massachusetts. When asked what he was hauling, the driver stated he was only hauling clothes.
Although he had only been a member of the Patrol for less than two years, Trooper Gaines had received extensive training in criminal interdiction. This training was about to pay off. Trooper Gaines asked for a consent search. The driver stated, "Go ahead." Trooper Gaines asked the driver to open the back of the truck, which he did.
The back of the U-Haul contained several pieces of luggage and some U-Haul blankets. When Trooper Gaines commented to the driver that the truck was larger than normal for making a trip with only clothing, the driver said, "No, sir, no." Trooper Gaines asked if he could look inside the bags, to which the driver responded, "Go right ahead."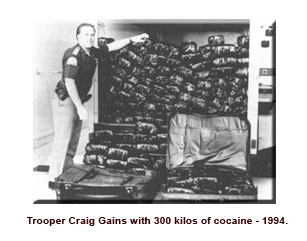 Trooper Gaines discovered 150 packages containing 300 kilograms of pure cocaine. At 2.2 pounds per kilogram, that is 660 pounds of 99 percent pure Colombian cocaine. With a street value of $100 per gram of 50 percent pure cocaine, Trooper Gaines had discovered $59,928,000 in cocaine. There were no troopers close enough to help; therefore, Beaver City Police Officer Russell Erickson responded to assist. This case was turned over to the Drug Enforcement Administration for further investigation in Boston, Massachusetts.
Major Cocaine Seizures in Utah 
Feburary 22, 1993
Dep. Phil Barney, Sevier Co. SO, I-70 Sevier Co, 86 kilos
September 16, 1991
Sgt. Paul Mangelson, UHP, I-15 Juab Co, 94 kilos
June 29, 1992
Sgt. Paul Mangelson, UHP, I-15 Juab Co, 95 kilos
March 20, 1993
Trp. Lance Bushnell, UHP, I-15 Juab Co, 106 kilos
August 22, 1993
Trp. Doug Miller, UHP, I-15 Juab Co, 109 kilos
October 8, 1991
Trp. Lance Bushnell, UHP, I-15 Juab Co, 123 kilos
April 14, 1994
Trp. Craig Gains, UHP, I-15 Beaver Co, 300 kilos
November 20, 1992
Trp. Larry Orton, UHP, I-15 Iron Co, 500 kilos
March 28, 1993
Off. Dusty Torgeson, Richfield City PD, Richfield, 563 kilos