A New Weapon: Beretta Cougar 8040D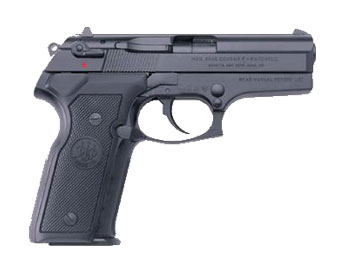 Since 1986-87 the Department of Public Safety has utilized the Heckler & Koch (H&K) P7 (M8-M13) 9mm auto loading pistol as the issued duty handgun. Even though the H&K is an excellent weapon, it became apparent by 1996 that the P7 was no longer a viable weapon of choice for DPS. The price of a new H&K with night sights and two magazines, increased from $425 in 1986 to over $1,100 in 1996. After a decade of use, many of the weapons needed routine maintenance; however, replacement parts were expensive and difficult to obtain.
In the spring of 1995, the Utah Highway Patrol Training Section began an evaluation and testing program to look at other available weapons. Sergeant Jim Maguire coordinated this weapons evaluation and recommendation program. Thirteen weapons were obtained from various major manufacturers for testing and evaluation. Only auto loading, 9mm and .40 caliber pistols were considered. Both double action only (DAO) and double/single action (DAS) versions were evaluated.
On March 7, 1995, an evaluation shoot was held at the Salt Lake Airport Authority Range. Seventeen evaluators graded the weapons by completing an evaluation sheet immediately after firing each weapon. The evaluators consisted of members of the administration, training staff, firearms instructors, and department armorers. Each weapon was evaluated in 23 specific areas. Following tabulation of all evaluations, the top five weapons were identified for further testing and evaluation.
During the following year, the UHP Training Section continued to evaluate and make recommendations regarding these weapons. In February 1996, DPS requested input from all sworn officers regarding the selection of the top weapon choice, the Beretta – 8040D (DAO) in .40 caliber. This relatively new weapon, known as a Cougar, utilizes a rotating, locking barrel system. While a majority of the sworn officers supported this selection, a few disagreed. During the following month, those officers that disagreed with the choice were given an opportunity to test and evaluate the Beretta Cougar.
The results of all testing and evaluation were presented to Commissioner Doug Bodrero on March 11, 1996. Following this meeting, the decision was made to move forward with the selection of the Beretta Cougar as the new issued sidearm of the Department of Public Safety. This extensive evaluation and selection process, involving all levels of the department, is indicative of the long standing tradition of DPS to make responsible decisions and to provide the highest quality equipment to its troopers and agents.