1992 Camaros
During the fall of 1991, the Utah Highway Patrol tested a 1992 Camaro offered by Chevrolet. This test model was equipped with a 350 cubic inch engine, an automatic transmission, posi-traction rear end, four wheel disc brakes, and had a top speed of 157 mph. The price tag for this "rocket on wheels" was $13,000. The test Camaro was driven by troopers throughout the state. During the first 30,000 miles of "let's see what she'll do" testing, the test vehicle went through three transmissions. The Patrol was interested in the car, but did not want an automatic transmission. Chevrolet offered a five speed manual transmission, but only with a 305 engine. This engine produced 230 horse power at 4,400 rpm with a top speed of 140 mph.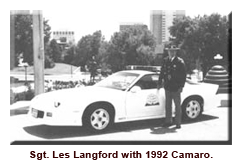 In 1992, the Patrol purchased 22 Camaros as part of a test program. The 1992 Camaro was the 25th anniversary limited edition. Officers lucky enough to be issued a Camaro, loved the performance and hated the limited space. The Camaro outperformed the Mustang on acceleration, maneuverability, and traction during inclement weather. The doors were long, entry was low, and storage space was limited. Despite these drawbacks, the Camaro was always an attention getter.
The following year the Camaro body style and engine were changed dramatically and so was the price tag. The new price placed the Camaro out of competitive bidding and thus the Camaro era on the UHP ended with this single order.