Utah Hope Project
Making Dreams Come True
On December 19, 1987, Sergeant Les Langford was contacted by Sergeant Mike Frelick of the Montana Highway Patrol. Sergeant Langford was asked to take a large teddy bear to Tammy Elwood, age 14, Helena, Montana, a patient at the Primary Children's Hospital in Salt Lake City. Tammy had undergone numerous medical procedures in an attempt to stop the spread of cancer in her young body. Her only wish for Christmas was for a teddy bear. The Montana Hope Project, established by the Montana Highway Patrol, wanted a representative of the Utah Highway Patrol to deliver this gift.
Following this heart wrenching meeting, Sergeant Langford met with Sergeant Frelick on December 25, 1987, to learn more about the Montana Hope Project. In January 1988, Montana Hope Project Director, Trooper Larry Bean, Sergeant Frelick, and Sergeant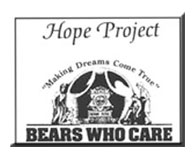 Langford met with the Utah Highway Patrol Association with the proposal of beginning a Utah Hope Project. The following month, the UHPA agreed to organize the Utah Hope Project as a community service project. In July 1991, the Utah Hope Project became a separate corporation and has continued to grow. The Utah Hope Project is a charitable, non-profit organization with the sole purpose of "Making Dreams Come True" for children with life threatening illnesses.
Since its organization, the Utah Hope Project has assisted 23 individual children. Each of these children had different wishes. The following are but a few stories of how the Utah Hope Project makes dreams come true.
Twelve year old Monica Chaidez had a wish. A simple wish by most standards, but a big wish for this little girl. Monica wanted a compact disc or cassette of the singer Gloria Estefan. In February 1993, the Utah Hope Project became aware of Monica's illness, a malignant brain tumor, and her desire to have just one of her favorite performer's tapes. Through the generous donation of Best Department Store, the Hope Project was able to give Monica an AM/FM stereo CD player "boom box." Gloria Estefan's producers were contacted in California, and they sent her an autographed copy of Gloria Estefan's photo. Pegasus Records were contacted and they graciously donated every compact disc that Gloria Estefan had made, as well as six music videos of her concerts. A simple wish for a little girl. Monica died two months later.
David Haws, age 11, suffering from Non-Hodgkins Lymphoma, wanted a color television and a super nintendo. Although his parents wanted a different wish for David, the Utah Hope Project grants the child's dream. With the permission of his parents, David not only received a color television and a super nintendo, but he also received a dual cassette boom box.
Jackie Hawley, age six, suffering from a malignant brain tumor, had a special dream of meeting Sleeping Beauty. Jackie and her family were flown to Disney World. Trooper Pat Santangelo of the Florida Highway Patrol served as chauffeur and tour guide during the four-day trip. The Hawley's visited Disney World and met Sleeping Beauty, Mickey Mouse, Donald Duck, and many other Disney characters. They also visited the Hard Rock Cafe, the Epcot Center, Universal Studios, Sea World, and the Kennedy Space Center.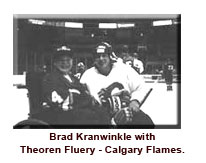 Brad Kranwinkle, age 12, suffering from Duchenne Muscular Dystrophy, loved to play hockey before his disease confined him to a wheelchair. He was a great fan of Theoren Fluery, who played for the Calgary Flames. Brad and his family were flown to San Jose, California, where the Calgary Flames played the San Jose Sharks. The California Highway Patrol provided constant attention and assistance. The Kranwinkle's stayed at the San Jose Hilton, where the Calgary Flames were also staying. At the game, Brad was taken down on the ice for one-on-one practice with Theoren Fluery. At the end of the game, Brad was taken to the Calgary Flames dressing room where he received his very own Calgary Flames jersey.
Ben Fagan, age eight, has an uncommon chromosomal syndrome that is responsible for a variety of health problems. Ben had two wishes. First, he asked for a red bike, and then in passing mentioned that a train ride might be fun as well. A red three-wheeled bike was located at the Loveland Cycle Center in Brigham City which was perfect for the first wish. Ben was then accompanied by Sergeant Michael Johnson for a ride on the historic Heber Creeper. The highlight of the day came on the return trip when Ben rode in the engine.
The Utah Hope Project also helped 27 children collectively in another project. The Ogden School for the Deaf and Blind, wanted to send these children to a Special Olympics in California, and needed $4,000. The Utah Hope Project considered this a small price to pay for such big rewards.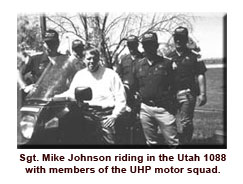 In 1992, the Utah Hope Project began receiving financial assistance for the Utah 1088 motorcycle rally. Organized by Kearns resident Steve Chalmers, the Utah 1088 attracts riders from throughout the United States. For motorcyclists, riding is a dream fulfilled. Perhaps that's why bikers are so good at raising money for a worthy cause like the Utah Hope Project. All riders pay an entry fee of $100 plus solicit donations from private corporations.
During the Utah 1088 rally, riders attempt to complete 1,088 miles in a 24 hour period. Like most car rallies, the Utah 1088 route is kept secret until a few minutes before departure. As Rallymaster, Chalmer's job is to find a variety of scenic back roads and interesting historic sites. With five national parks, nine national forests, two national recreation areas, 48 state parks, and 22 major lakes to choose from, Utah is a dream come true for bike riders. That's what it takes to draw riders from throughout the United States and Canada. The fact that all proceeds go to a worthy cause is another major draw. In 1995, the Utah 1088 rally raised $30,000 for the Utah Hope Project.
Many private and corporate donations are received annually for the Utah Hope Project. In 1994, Delta Airlines donated $5,000 from their "Fair Share" program to the Utah Hope Project. Today, the Utah Hope Project continues to be managed by members of the Utah Highway Patrol Association and concerned citizens of Utah. Since its creation, the Utah Hope Project has fulfilled over 50 dreams for children. Together, as caring people, members of the Utah Hope Project work to give hope and happiness to these special children and their families.