Return to Marion
Following the death of John Singer on January 18, 1979, and the dismissal of the $111 million wrongful death lawsuit by Judge David Winder in September 1982, many Utahns forgot about this case. In October 1982, Mrs. Singer appealed this case to the U.S. 10th Circuit Court of Appeals in Denver. Two years later, in September 1984, the 10th Circuit Court turned down the Singer suit. The following month Vickie appealed to the U.S. Supreme Court. During March 1985, the U.S. Supreme Court refused to hear the appeal, permanently ending the legal battle over John Singer's death.
Following John Singer's death, Addam Swapp of Fairview, Sanpete County, Utah, had moved in with the Singer family and had taken two of Singer's daughters as wives. During the following years he fathered six children with Heidi and Charlotte. As patriarch of the Singer/Swapp family, Addam developed a deep hatred for the Church of Jesus Christ of Latter-day Saints, several residents of Summit County, and the state of Utah.
Vickie Singer continued to harbor bitter feelings toward the LDS Church, Summit County officials, and the state of Utah. This hatred was shared by Vickie's oldest son, Timothy Singer, and Addam's younger brother, Jonathan Swapp.
On May 25, 1987, Addam wrote a letter naming 13 men "and all those involved in Marion Water works" as responsible for the death of John Singer and demanded atonement. The letter also accused the LDS Church of being an "evil church" involved in a conspiracy to drive the Singers from their 2 1/2 acre farm. That same year, Vickie refused to pay property taxes on her farm.
On January 16, 1988, two days before the ninth anniversary of the death of John Singer, Addam Swapp broke into the Kamas LDS Stake Center. He filled the cultural hall with 50 pounds of dynamite with a "booster" of ammonium nitrate, which doubled the explosive force. This bomb was detonated at 3 a.m., causing $1.5 million in damage. This act of terrorism was Addam's way of notifying the LDS Church and Utah that he had begun the "atonement" with a vengeance.
Upon leaving the church, Addam stuck a spear in the ground in the northeast corner of the church property. Nine feathers were attached to the handle, next to the engraved date – January 18, 1979. The nine feathers signified the nine years since John's death. Tracks in the snow led from the spear directly to the Singer farm. When police contacted Addam Swapp and Vickie Singer and ordered them to surrender, they refused, and promised a battle if lawmen stepped onto their property.
The Summit County Sheriff's office immediately requested assistance from the Utah Department of Public Safety. Due to the use of explosives and the involvement of the LDS Church which is located worldwide, DPS summoned experts with the Bureau of Alcohol, Tobacco, and Firearms (ATF) and agents with the Federal Bureau of Investigation (FBI). Within 24 hours, approximately 100 law enforcement officers had responded to the scene. The Singers/Swapps refused to communicate with police. Inside the home were 15 people, including Addam Swapp's six children, all under the age of six.
On Sunday, January 17, Vickie Singer's son-in-law, Roger Bates, was allowed to visit the Singer/Swapp family in hopes of opening a line of communication. Upon his return, Bates told reporters that they had no intention of surrendering. He added, they "are just waiting for John to come home – to be resurrected." At that time they expected an armed confrontation with lawmen. He further revealed that Addam Swapp claimed he had received a revelation from God that John Singer will rise from the dead to protect them at the moment police launch their attack. They believed John Singer's resurrection would trigger the downfall of corrupt government and religious institutions and clear the way for the second coming of Jesus Christ.
This news was extremely disturbing to law enforcement officials. Police can often negotiate with criminals. Religious fanatics will seldom negotiate and are extremely unpredictable. The Singers/Swapps had already demonstrated their willingness to respond with acts of terrorism.
Warrants for the arrest of Addam Swapp and Vickie Singer were signed by 5th Circuit Judge Maurice D. Jones, charging them with aggravated arson, criminal mischief, and possession of an infernal device in connection with the bombing. Commissioner of Public Safety John T. Neilsen assigned Deputy Commissioner Doug Bodrero as on scene commander.
Officers feared that the anniversary of John Singer's death may become violent, but January 18th came and passed without event. Again, Roger Bates was allowed to visit the Singer farm. Again, attempts to establish communications with the Singer family met with failure. Mr. Bates explained that the family had nothing more to say. They were simply waiting for the police to attack so John Singer could be resurrected.
Authorities wanted to avoid a direct confrontation due to the presence of children. All officers received explicit orders that under no condition were they to fire on the house. It was necessary to rotate officers every few hours due to extremely low temperatures, which nightly dropped below zero. Nine troopers per shift were utilized for perimeter security. Logistics to accommodate these officers, plus a demanding news media, continued to burden Commissioner Bodrero.
The following day, more than a dozen bullets were fired from the farm as officers erected and turned on a bank of spotlights which illuminated the Singer farm. Officers were not certain whether the bullets were meant for them or the lights. During this incident several lights were hit and damaged.
On Wednesday, January 20, members of the Singer family continued to fire toward police lights. It was estimated that more than 50 rounds from high powered rifles were fired from sunset Tuesday to sunrise Wednesday. Again, police refrained from returning fire. Authorities did not want Addam Swapp or any of his followers to become martyrs to their cause.
Authorities had summoned professional negotiators from the FBI. However, these negotiators could not be utilized unless communications were established. In order to further motivate the Singers/Swapps to open communications, the decision was made to disconnect electrical power to the compound. This was accomplished by an FBI marksman, who fired two rounds into a power transformer.
That same day, a federal grand jury indicted Addam Swapp and Vickie Singer on four counts. Three of the counts stemmed from the January 16th bombing: "maliciously damaging" the church with explosive, "the use of a destructive device in a crime of violence," and "the possession of an unregistered destructive device, this is, a bomb." The fourth count resulted from the barrage of bullets which had been fired toward law enforcement officers surrounding the farm.
Officers were obligated to inform Addam Swapp and Vickie Singer of the federal charges brought by the grand jury. Authorities were also hopeful that notification of these inditements would avert further acts of aggression towards officers. Due to the continued refusal to speak with authorities over the telephone, a helicopter was used to drop a written message into the Singer compound. Officers observed an adult male, armed with a rifle, retrieve the message. Again, these tactics failed to open lines of communication.
During the days that followed, authorities used a variety of tactics in an attempt to move the siege to a peaceful conclusion. Low flying aircraft buzzed the house and circled the farm. Spotlights were extinguished and aerial flares were fired over the compound. Emergency vehicles activated lights and sirens. Later, a public address system was installed which directed high-pitched electronic static at the Singer compound. The main water line into the compound was severed. During this period of time, law enforcement officers were often fired upon. As ordered, officers refrained from responding with deadly force.
As the siege entered the second week, many citizens questioned the need for such tactics. The news media labeled these tactics as "psychological warfare." On January 24, Ramon and Harriett Swapp, the parents of Addam Swapp, arrived at the law enforcement command center in Marion complaining about the "bizarre" psychological pressure being applied. On January 25, Ogden Kraut, a longtime friend of the Singer family and fundamentalist Mormon, was allowed to visit the farm. He returned with the disappointing news that the standoff had done nothing to shake the convictions of Vickie Singer and Addam Swapp. They still believed an armed confrontation was needed to bring the resurrection of John Singer.
The following day, Kraut again entered the farm and delivered a letter from Governor Bangerter, expressing concern for the children in the home and asking Addam Swapp and Vickie Singer to surrender. That evening, approximately 50 people rallied outside the Governor's mansion calling for a peaceful solution to the standoff.
On Wednesday, January 27th, communication was reestablished with the Singer farm, but authorities were unhappy with the message. Addam Swapp and Vickie Singer had prepared letters for Governor Bangerter. They were delivered via Ogden Kraut.
In a seven page letter Addam Swapp stated, "I stand on the truth and declare my independence from this government and society… We are independent and separate from your wicked society… Take a warning – any man of yours which attempts to cross the boundaries of this place, without our permission, will be treated as an aggressive act on your part against us and we will defend ourselves in any manner we see fit… I now must warn you and anyone else involved… leave this valley immediately… Those who would come against this my people, will I verily cause to be destroyed."
Vickie Singer wrote a nine page letter which contained, "We will not compromise our stand… The matter of the bombing of the church was of God making bare his arm through his servant, Addam Swapp… Church, State and Nation will be brought up a standing like a wild colt to a snubbing post."
After reading these letters, authorities were convinced that a peaceful solution was impossible. A plan was formulated to isolate and subdue Addam Swapp. Twice in the past, Addam and Jonathan had emerged from their home and fired upon loudspeakers which had been activated close to the north side of the compound. They then cut the wires attached to the speakers, shouted obscenities at police, and hauled the speakers back to the house.
On Thursday, January 28, 1988, police attached a tactical device commonly called a "flash bang" to a speaker. When activated, this device produces a loud noise and a bright flash. The device is used to temporarily distract and disorient a suspect. The plan was to subdue Addam with the aid of a police dog during this brief period of time. This use of force is non-lethal and widely accepted by the courts.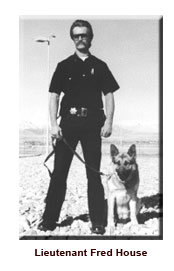 Utah Department of Corrections Officer Fred House was summoned for this assignment. As a member of the Corrections Special Weapons and Tactics Team (SWAT), Officer House was an expert dog handler. He was convinced that he would be able to isolate and arrest Addam Swapp without the use of deadly force. Again, all SWAT members were ordered under no condition were they to fire on the house, due to the presence of the children.
At 6 a.m. the plan was placed in motion. As expected, Addam emerged from his home and approached the load speaker, firing several rounds, and shouting obscenities at the police. As Addam began to remove the speaker, the flash bang was activated and Officer House released his dog. The dog was startled by the flash bang and ran from the scene, failing to engage the suspect. Addam fired at the dog as it ran for cover. Addam then hastily retreated to the safety of the house.
Although this plan had failed, authorities were convinced that the plan had merit. A backup plan was set in motion. Another daily routine observed by police was the morning milking of several goats by Addam and Jonathan Swapp. At 8:30 a.m., Addam and Jonathan left their home to milk the goats. As in the past, each was armed with a rifle. As they approached the goat pen, Officer Fred House appeared in a nearby doorway and ordered his dog to attack. Watching from the Singer home was Timothy Singer, armed with a .30 caliber carbine.
Upon seeing Officer House, Timothy opened fire. Officer House was shot and fell in the doorway. An FBI Agent tried to pull Officer House to safety. During this heroic attempt, numerous rounds were fired by Addam Swapp, Jonathan Swapp, and Timothy Singer. During this barrage of gunfire, the FBI Agent raised his issued duty weapon and fired two rounds at Addam Swapp. One 9mm round struck Addam in the right wrist. The bullet passed through his arm and lodged in his chest. Addam fell to the ground, then stood up, and ran to the house.
Two armored personnel carriers had been standing by in case of emergency. Officers immediately summoned their assistance to evacuate Officer House. As the two armored personnel carriers moved forward, they came under extremely heavy gunfire. More than 100 rounds ricocheted off the front of these machines. Operators were fearful that a bullet would pass through the narrow slits utilized for vision.
As officers were attempting to move Officer House to safety, Addam Swapp emerged from the house, waiving a white towel stained with blood. He surrendered without further incident. His injuries were not life threatening. Following 20 minutes of tense negotiations, the remainder of the Singer/Swapp family surrendered.
Paramedics worked frantically to stabilize Officer House. Despite their valiant efforts, Department of Corrections Officer Fred House died at Marion, Utah.
Inside the compound, officers found hundreds of rounds of ammunition, numerous weapons, including a sawed-off shotgun, rifles, and explosives. Every attempt for a peaceful conclusion had been rejected by the Singers/Swapps. Addam later told authorities that blood had been shed and therefore John Singer's death had been atoned. This incident had been the longest siege to-date in FBI history.
During the months that followed, the Utah Department of Public Safety organized a Special Emergency Response Team (SERT). The DPS SERT team was utilized to transport Addam Swapp, Jonathan Swapp, and Timothy Singer to and from court at Coalville, Utah. The DPS SERT team was often present during conversations between the Swapps and Singers and their attorneys. Because these conversations involved client/attorney relationships, they were not admissible in court. Addam and Jonathan told their attorneys that on numerous occasions they fired at officers. They added that they were firing at the officers and were attempting to hit the officers. Addam, Jonathan, and Timothy all told their attorneys that they fired at Officer House with the intent of hitting him. In court, they all testified that they had no intention of killing any officers and were just shooting over the heads of the officers. They further testified that they were shooting at Officer House's dog and had no intention of killing Officer House.
Although charged with murder, the Summit County jury returned a verdict of manslaughter for Addam Swapp and Timothy Singer. Jonathan Swapp was convicted of misdemeanor negligent homicide. Vickie Singer was not found guilty of any state crimes. The Singers and Swapps were then tried on the federal charges previously mentioned.
Addam Swapp was sentenced to 15 years in a federal prison for bombing the Kamas LDS Stake Center and for using firearms against federal agents. He was also given an additional five year mandatory sentence for using explosives. For his conviction of manslaughter in state court, involving the death of Fred House, he was sentenced to one to 15 years in prison. He was sent to a federal prison in Indiana. After serving his federal sentence, he will be returned to Utah to serve his state sentence.
John Timothy Singer was also sentenced to 10 years for using firearms against federal agents. For his conviction of manslaughter in the death of Fred House he will serve a one to 15 year sentence in Utah following his federal sentence.
Jonathan R. Swapp was sentenced to 10 years in federal prison for using firearms against federal agents. He was sent to a federal prison in Arizona. For his conviction of misdemeanor negligent homicide, he faces no more than one year in prison for the death of Officer Fred House.
Vickie Singer was originally sentenced by Judge Bruce S. Jenkins to five years for aiding in the use of a gun in resisting arrest. She was later paroled and returned to live on her farm in Marion. Vickie Singer's younger sons, Joseph Hyrum Singer, Hans Benjamin Singer, and Israel Singer continue to live with Vickie. Benjamin was later arrested for possession of a homemade bomb. Many Kamas residents continue to live in fear of the Singers.