Operation Greenleaf
From August 13-26, 1989, members of the Utah Division of Investigation and SERT joined with Special Forces (Airborne) units of the Utah National Guard during "Operation Greenleaf," a marijuana eradication program in southeast Utah. Using three reconnaissance OH 6 helicopters and three Huey team transport helicopters,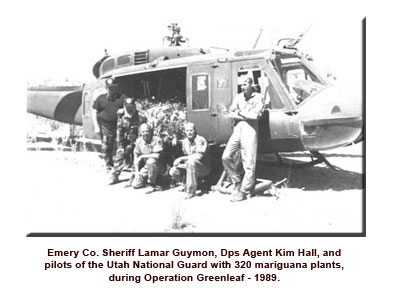 a total of 4,506 marijuana plants were discovered by air and ground teams during this two-week operation. The Utah Department of Public Safety allocated approximately $15,000 from previously confiscated drug monies, and 23 personnel for the two-week operation. National Guard expenditures came out of funds allocated to Utah from the Department of Defense associated with yearly military training exercises.
National Guard helicopters, ground transportation, and support personnel were used to help locate the marijuana. Law enforcement officers from the state, and from local sheriff offices went into the affected areas to conduct investigations, eradicate the plants, and make arrests when possible. Four people were arrested in Emery and Carbon counties during the operation and were charged with cultivation of marijuana. The marijuana seized had a street value of approximately $4,500,000.