Major Crash, Minor Injuries
On October 20, 1985, off-duty Trooper J. Carlos "Abe" Haycock, 60, his wife Shirley, 54, and their daughter, Jody Stephenson, 24, were in the northbound lanes of I-15 approaching 2700 South. They were following a semi-truck pulling a flatbed trailer loaded with a backhoe. The driver of the flatbed had failed to properly lower the boom of the backhoe. He also failed to notice the flashing "high load" warnings just before 3300 South, which had been tripped when the high load passed under the 3900 South structure.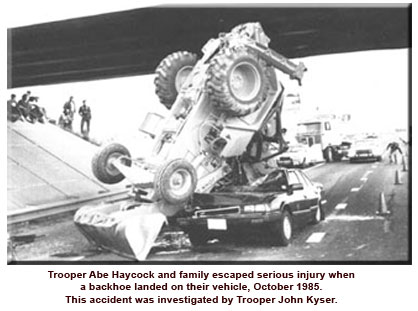 The backhoe slammed into the 2700 South overpass, jackknifing the flatbed and toppling the backhoe onto the Haycock's vehicle. The backhoe bucket crushed the roof of the small car above Mrs. Haycock, pinning her in the vehicle. This accident snarled traffic for three hours as officers worked to clear the debris. Trooper Haycock and his family emerged with only minor injuries.