Commissioner D. Douglas Bodrero
D. Douglas Bodrero began his law enforcement career as a dispatcher with the Cache County Sheriff's Department in 1969. He soon accepted a position as deputy sheriff. He graduated in 1976 from Weber State College with a bachelor degree in police science. He advanced to the position of Chief Deputy prior to his election as Sheriff in 1978, a position he held for six years. He served as President of the Utah Sheriffs Association and Chairman of Peace Officer Standards and Training Council. In February 1985, while serving his second term as Sheriff of Cache County, he was appointed as Deputy Commissioner of the Utah Department of Public Safety by Commissioner John. T. Nielsen.
Deputy Commissioner Bodrero was the on-scene commander during the Singer-Swapp incident. He also took the lead in guiding Utah's role in a western states' electronic fingerprinting system that would provide instant fingerprint matching throughout the west. The 1989 legislature funded the Automated Fingerprint Identification System (AFIS).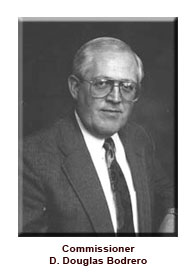 When Commissioner Nielsen returned to private practice in November 1988, Doug Bodrero was appointed Commissioner of Public Safety the following month by Governor Norman Bangerter. Commissioner Bodrero selected Davis County Sheriff Brant Johnson to serve as Deputy Commissioner. Brant had served for 28 years in law enforcement, including many years as a trooper with the Utah Highway Patrol.
On New Year's day, 1989, Commissioner Bodrero was summoned to Washington County following a failure of an earthened dam at Quail Creek Reservoir. Water released by this dam failure entered the Virgin River and destroyed a bridge on Utah 9 near Hurricane. Flood waters then swept through a farm killing 114 pigs, 27 cows, four horses, and a goat. Traffic into Zion National Park was diverted onto Utah 17. Interstate 15 through the Virgin River Gorge, south of St. George, was closed due to fear of damage to bridges. Approximately 1,500 residents of St. George fled to high ground. Approximately 30 homes in Bloomington, 10 miles downstream from the dike, sustained serious water damage. Department of Public Safety estimates released on January 9, 1989, placed the total damage at $11,959,732. It has been said that Commissioner Bodrero was truly introduced into this new position by a baptism of water.