Arrive Alive
The 1986 state legislature passed the first seat belt law in Utah. After much debate, the original bill was amended to make the law a secondary offense. This meant that an officer could not stop a vehicle simply because the driver or occupants were not wearing a seat belt. However, if an officer stopped the vehicle for another violation and the occupants were not belted, then the officer could issue a citation for the secondary violation of failing to wear a seat belt. The maximum fine was defined by law as $10.
Citizens, courts, and even officers had to be educated that the seat belt law is an effective tool to save lives. The Patrol classified this law as a hazardous arrest in an attempt to create a greater incentive for enforcement. Several sections created positive incentives, such as gift certificates, which troopers issued to motorists who buckled-up.
The following year the federal government allowed states to raise the national speed limit from 55 to 65 mph on rural sections of interstate. On May 18, 1987, the Utah Highway Patrol announced a new campaign for safety on the highways called "Arrive Alive." During a press conference, Colonel Mike Chabries noted, "We genuinely care that Utahns 'arrive alive' at their destinations."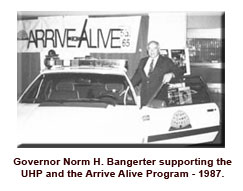 The "Arrive Alive" safety program instructed drivers to always buckle up, obey the speed limit, don't drink and use drugs and drive, and adjust driving attitudes to become more safety conscious. The "Arrive Alive" program combined education and enforcement to accomplish these goals. "Arrive Alive" stressed that traffic safety is not just a Highway Patrol and law enforcement responsibility – safety is everyone's business. Law enforcement and public education worked together to provide meaningful solutions to traffic safety problems. For example, the Patrol held courtesy radar checks to help drivers determine the accuracy of their speedometers. The Patrol then began enforcement of the posted speed limit with lower tolerances. Utah had been in jeopardy of losing federal highway funding due to non-compliance with the national speed limit. Within one year of the start of "Arrive Alive," Utah was again in compliance.
A survey conducted by the Utah Highway Patrol during December 1986, revealed seat belt usage at 46 percent in urban areas of the state and 28 percent in the rural areas. The national usage rate in 1986 was 34 percent. From September 1 through November 30, 1986, the Patrol issued 634 citations and over 7,000 warnings for failure to wear seat belts. Enforcement activity steadily increased as public education and officer awareness increased. The terminology also changed. Seat belts were labeled "safety belts." The Patrol issued 3,076 citations and 6,994 warnings for failure to wear safety belts from March 1987 through June 1987. Also issued were 152 child restraint law citations and 324 warnings. The child restraint law was latter termed "a law of love." Bumper stickers were placed on all patrol cars which read, "Love your children? Buckle them up!"
In May 1988, Utah received the National Highway Traffic Safety Administration (NHTSA) Certificate of Achievement in honor of the successful "Arrive Alive" traffic safety program. NHTSA also presented the Public Service Award to Commissioner John T. Nielsen, Colonel Mike Chabries, and to Richard Howard, Director, Utah Highway Safety.