50 Year Celebration
In 1985, the Utah Highway Patrol celebrated 50 years as an agency with full police authority. The Utah Legislature passed Senate Joint Resolution 7, to recognize the growth of the Utah Highway Patrol to 255 field troopers, patrolling 26,000 miles of roadway, and recognizing the many programs implemented by the Patrol to serve and protect the motoring public. The Patrol consisted of 382 sworn personnel and 97 non-sworn personnel in 1985.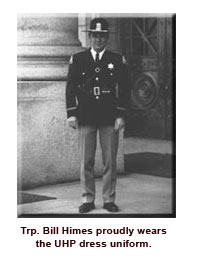 Also in 1985, Senate Bill 253, sponsored by Senator Richard J. Carling, established a special license plate for UHP vehicles. These special plates depict the beauty of southern Utah as well as the UHP beehive. On the left side of the beehive are the letters UHP, and on the right side are the trooper's badge number. Several years later, when the department issued new badge numbers, troopers were allowed to keep these special plates. These special license plates are still used today.
A 50th Anniversary Committee was organized which created a yearbook and a gala 50 year celebration. On August 24, 1985, 750 members of the Utah Highway Patrol and their guests met in the Grand Ballroom of the Little American Hotel, Salt Lake City, for a night of dining, speeches, dancing, and celebration.