Trooper Ray Lynn Pierson
Joining the Utah Highway Patrol on January 7, 1974, Ray Lynn Pierson followed in his father's footsteps. Sergeant Dean Pierson had been a member of the UHP since August 1959. Known by his middle name, Lynn was assigned to the Heber Port of Entry. In September 1976 he transferred to the field and resided in Moab. On November 5, 1978, he transferred to his home town of Panquitch.
For the first two days of his new assignment, Trooper Pierson used the statewide radio frequency. He had scheduled an appointment with Al Higgs, radio engineer, to install crystals for the Richfield UHP frequency in the afternoon on November 7th.
Earlier that same day, Richfield dispatch broadcast an attempt to locate on a blue Ford pickup with a white camper shell involved in a gas skip from the Texaco station at Cove Fort. The broadcast was never received by Trooper Pierson.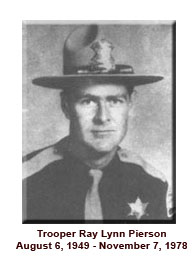 Trooper Pierson was patrolling State Road 20, a connecting road between US 89 and Interstate 15, north of Panguitch. He apparently stopped the wanted vehicle for a minor traffic violation. Not knowing that the vehicle was stolen from Montana, that the driver was a fugitive from Illinois, and that this felon was in possession of a stolen .357 magnum revolver, Trooper Pierson approached the vehicle in his normal manner.
As Trooper Pierson reached the driver's window, the driver fired, striking Trooper Pierson in the heart. Trooper Pierson managed to fire six rounds from his .357 service revolver, as the felon sped away.
The first individual that came upon the crime scene located the police radio and broadcast, "This is Deloy Emmett from Cedar City. I am about three miles west of US 89 on highway 20 and there is an officer bad shot here and it looks like he might be dead!"
This transmission was copied by Trooper DeMar "Bud" Bowman at Cedar City UHP dispatch, and by Trooper Ralph Dart at Richfield UHP dispatch, as well as by Garfield County Sheriff Keith Fackrell. Trooper Kent Whitney and Sergeant Charles Cowley responded from Richfield. Sergeant G. ElRoy Mason responded from Cedar City. He was accompanied by Iron County Deputy Sheriff John R. Williams.
A roadblock was established at Paragonah by Gordon Adams, Iron County Deputy Sheriff; Brent Fowles, Public Service Commission; and Chief Joe Haslam and Officer Joe Mickelson, Parowan Police Department. As Sergeant ElRoy Mason arrived at the roadblock, the suspect vehicle approached from the opposite direction. The suspect made a U-turn and headed toward Beaver with Sergeant Mason, Deputy Williams, and Deputy Adams in pursuit.
Several miles into the pursuit, it was obvious that the driver had no intentions of stopping. Several rounds were fired into the vehicle by Deputy Adams and Deputy Williams. A second roadblock was quickly assembled on the outskirts of Beaver. Officers at this roadblock included Sheriff Dale Nelson, Deputy Clarence Hutchinson, and Sergeant Lynn Cartwright, all with the Beaver County Sheriff's Department. They were assisted by Officer Joseph R. Troyner, Beaver Police Department.
As the suspect approached this roadblock he accelerated. It was obvious that he intended to run the blockade. Just prior to striking a patrol car that was blocking the roadway, several officers opened fire. The suspect vehicle struck the Beaver City Police car and then ran off the road and through a fence.
Officers later counted 87 bullet holes in the stolen vehicle. Five of these rounds were identified as coming from Trooper Pierson's weapon. Eleven bullet holes were in the windshield. Despite this gunfire and number of rounds, the suspect only sustained a single shotgun pellet wound to the head, which was not life threatening.
Special Agent Joe Cwik, FBI, assisted with the investigation. The suspect was identified as Brian Keith Stack, age 18. Later that same day, Stack admitted to Sergeant ElRoy Mason that he had committed the slaying. He pled guilty to a first degree murder charge on July 19, 1979, in exchange for a life sentence, rather than chance a death sentence if he went to trial.
Trooper Lynn Pierson was 29 years old at the time of his death. He was survived by his pregnant wife, Darlene; two sons, Clint and Brett; and a daughter, Jenny. On January 31, 1979, Darlene gave birth to their fourth child, a daughter, Laura Lynn.