Trooper John R. Winn
John Winn joined the Utah Highway Patrol as a radio operator on October 1, 1959. Trooper Winn later graduated from Utah Trade Tech, Provo, Utah, with a degree in electronic engineering. On November 1, 1964, he was promoted to radio technician. During the 1960s and early 1970s this position was a sworn police position. Trooper Winn received the Outstanding Citizens Award in 1970.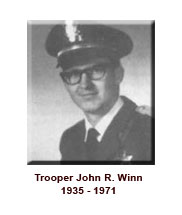 On September 22, 1971, Trooper Winn was working at a radio tower on Lake Mountain in Utah County. He was operating a loader on a steep grade. The loader began to roll backwards, out of control. The loader struck a hillside and rolled one time, crushing Trooper Winn. He was 36 years of age. Trooper Winn was survived by his wife, Jo Anne, three daughters and three sons.