Agent Robert B. Hutchings
Born December 7, 1943, in Boston, Massachusetts, Robert B. Hutchings served as a Deputy Sheriff in Sacramento County, California. He later moved to Utah and joined the Utah Department of Public Safety on January 2, 1974. He served as an Agent with the Narcotics and Liquor Enforcement Division. Agent Hutchings was assisting the West Jordan Police Department in a drug investigation.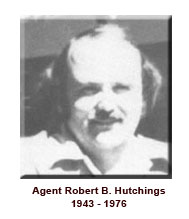 The investigation included a drug buy of cocaine at 588 East 17th South, Salt Lake City, Utah. Investigating officers had obtained an arrest warrant for Ricky Milton Larsen, 28, issued by the Salt Lake County Attorney's Office and signed by City Judge Melvin H. Morris. Officers decided to make another felony case against Larsen, prior to serving the warrant. It was agreed that Agent Mark Ridley would attempt to buy a quantity of cocaine from Larsen. Officers outside the residence would listen to this transaction by means of a hidden transmitter placed on Agent Ridley. Upon completion of the drug buy, Agent Ridley was to signal the other officers that the transaction had been made successful by saying, "It's cool."
Shortly after 8:00 p.m. on July 20, 1976, the buy went down as planned and upon announcing "Its cool," Agent Hutchings and West Jordan Chief Lance Foster kicked the door in. Larsen immediately produced a 12 gauge shotgun and shot Agent Hutchings in the upper left chest. Agent Hutchings returned four rounds of fire from a .380 semi-auto pistol and Chief Foster fired nine rounds from a 9mm submachine gun.
Agent Hutchings was dead on arrival at Holy Cross Hospital and Larsen was dead on arrival at LDS Hospital. FBI analysis of the bullet which killed Larsen proved that it had been fired by Agent Hutchings. About 1,000 various pills, quantities of cocaine and marijuana, and over $3,000 in cash were seized following the shooting. Robert B. Hutchings was survived by his pregnant wife, Janet, three sons and three daughters.