Interstate, Aircraft and Communications
The first sections of interstate highway were opened in 1960. Patrolling these divided highways proved to be challenging. Troopers soon learned creative methods to cross the center divider in pursuit of violators. It soon became obvious that more troopers were needed to adequately cover the interstate. An article which appeared in the newspapers in December 1960 stated that 40 additional men were needed immediately. The 1960 legislature also empowered the Department of Public Safety with authority to establish guidelines for alcohol testing.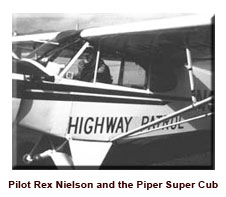 In January 1961, the Patrol purchased its first aircraft, a single-engine, four-seat Piper Comanche. This plane had a high-wing configuration and a wide range of speeds, making it equally useful for emergency shuttles and search and rescue flights. The plane was also used for executive transportation, traffic control, emergency blood shuttles, and other law enforcement activities. Don B. Christopherson and Rex S. Nielson were the Patrol's first pilots.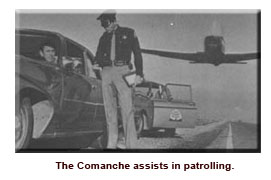 In the spring of 1961, UHP headquarters moved into the new state office building directly behind the State Capitol. The Patrol now had 3,758 square feet of office space on the third floor. The six story facility also housed the State Road Commission and the other divisions within the Department of Public Safety.
By 1963 the Patrol's airplane had proven so effective that a second plane was purchased. This aircraft was a 1961 Piper Super Cub, atwo-seated craft with a high, fixed-wing. This economical plane was specifically designed for slow flight and was extremely effective for search and rescue and traffic patrol.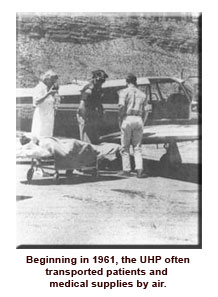 In 1964, the Utah Law Enforcement Teletype Network was established, linking all dispatch centers in Utah and in the continental United States. By this time, the Patrol's communication network had grown to 13 radio stations.
The Patrol provided communications for most cities and counties in Utah except for Salt Lake and Weber counties, and the cities of Salt Lake, Ogden, Provo, South Salt Lake, Murray, Midvale, and Sandy. The Patrol also had direct communications with Wyoming, Idaho, Colorado, and Arizona. The teletype network made communications throughout the nation possible.
In 1964, the single engine Comanche was traded for a newer twin engine Comanche. The twin was used to fly emergency shuttles and the Piper was used almost exclusively for traffic enforcement. In 1969, the twin Comanche airplane was traded for a newer model.