Officers Down
When most people think of troopers being injured in the line of duty, they immediately think of troopers being shot or stabbed. More state troopers are seriously injured or killed in traffic accidents than by weapons. The following three incidents are but a few examples of the dangers of being a state trooper.
On May 8, 1955, a jeep sideswiped a car which was making a left turn toward the Dixie Gas company in Washington County. The jeep rolled and skidded 147 feet after impact. The two occupants of the jeep were seriously injured. Twenty-one year veteran Trooper L. A. "Blondie" Porter investigated this accident and was assisted by Sheriff Roy Renouf. Once the injured were enroute to the hospital, Trooper Porter began to diagram the scene. Sheriff Renouf held one end of the measuring tape. Trooper Porter's attention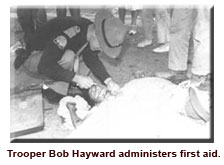 was directed toward an approaching vehicle. What Trooper Porter failed to see was another vehicle approaching from the opposite direction. The driver later stated that her attention was also directed to the oncoming vehicle and she failed to see Trooper Porter, who was taking measurements in the lane of travel. The vehicle struck Trooper Porter and sent him flying through the air. Sheriff Renouf quickly summoned help and began first aid. Trooper Porter suffered a compound fracture of the left femur. He was also bruised, bleeding, and in shock. For several days doctors tried to set the leg without success. Finally, Dr. McGregor inserted a 12 inch stainless steel pin into the center of the femur. Trooper Porter recovered fully and a few months later returned to work. He completed 13 more years with the Patrol.
In 1941 at Summit County, Trooper Ted London was working a roadblock with Trooper Jack Gridley. A drunk driver failed to stop and struck Trooper London, knocking him onto the hood of Gridley's patrol car with such force that the hood was touching the engine. Ted received several broken bones and multiple skull fractures. Trooper Gridley performed emergency first aid which was credited with saving Ted's life. After many weeks in the hospital, Trooper London recovered fully. He later became the eighth Colonel of the Utah Highway Patrol, retiring with 34 years of service in 1976.
On October 15, 1955, 16-year veteran Trooper Roland Reese was patrolling highway 101, north of Hyrum in Cache County. He turned to pursue a speeding vehicle. As he attempted to close on this violator, a drunk driver pulled from a stop sign and struck Trooper Reese's patrol vehicle head-on. The drunk driver's girlfriend was killed. The drunk and Trooper Reese were critically injured. Roland's 1954 Ford Tudor was not equipped with seat belts. He struck the steering wheel, dash, and windshield with tremendous force. His chest was crushed and his heart displaced. Both his upper and lower jaws were broken and a hole the size of a silver dollar was punched in his left cheek. He sustained a major concussion. His left leg was broken in two places, his right leg in one place, his right arm was broken and he sustained numerous bruises and contusions.
For six weeks Roland vacillated from unconsciousness to semi-consciousness. He was released from the Logan Hospital on December 23rd to spend Christmas at home. Following several operations and months of rehabilitation, Trooper Reese returned to work on June 1, 1956. He completed six more years with the Patrol, retiring at the mandatory age of 62.