Radio Communications
Another priority of Colonel Dow was to establish radio communications with all patrol vehicles. The first radios offered one way communication only. Aided largely by efforts from the Utah Peace Officers Association, the Utah State Legislature, and the federal government, this dream became a reality during the 1940s.
On May 31, 1942, the Utah Highway Patrol activated its first dispatch station, KUHP. This dispatch center served basically the Wasatch Front. The first transmitter was active all of the time and everything that was said in the dispatch office was broadcast. When the dispatcher had a message for an officer, he would ring a bell into the microphone to get the attention of the officer and then repeat the message. All radio communications were one-way.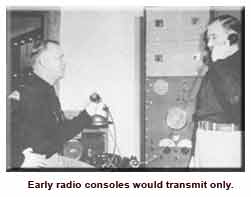 On February 22, 1943, the Salt Lake Tribune reported a statement from Colonel P. L. Dow, "A police radio network which will place law enforcement agencies in many parts of the state in two-way contact with each other will be operating within 90 days." The Utah Highway Patrol was working on a radio dispatch center which would service the northern borders of the state to Richfield. This station was called KUHP and operated out of the state capitol. It was linked to the Weber County Sheriffs Office at Ogden and the Provo Police Department. All stations operated on the same frequency, 1674 kilocycles, and broadcast using 300 watts of power. The UHP soon applied to the FCC to increase its broadcast power to 600 watts.
Later the FCC granted a permit to increase the power to 500 watts and to move the transmitter from the state capitol to a new transmission tower located at 1600 West 35th South. At this time, the UHP had only two cars with two-way radios, and 45 with receive only sets.
In January 1944, two new dispatch stations were installed: KUSG in Ogden and KPRV in Provo. In addition, a 200 watt transmitter, with the designation KBIS, was installed in a trailer as a portable communications center. By now, 20 additional cars in Salt Lake County were equipped with two-way radios.