Minor Crashes Move Off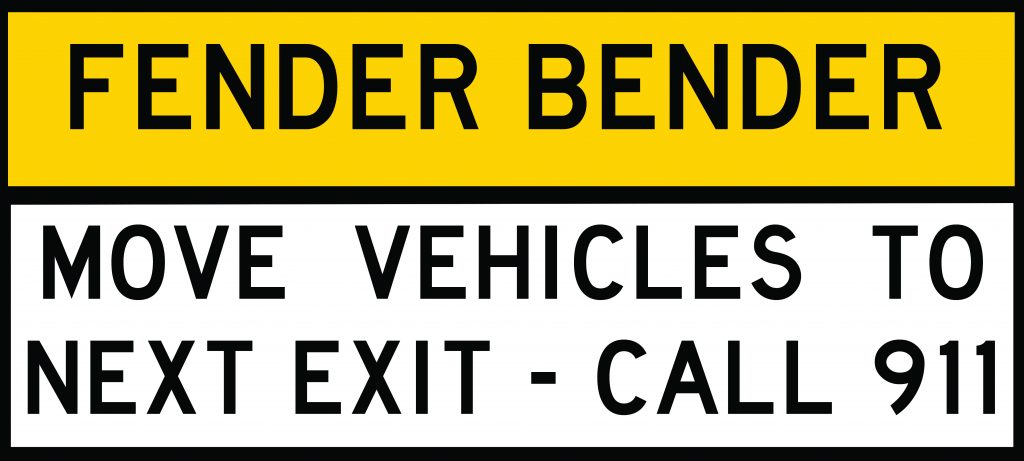 ---
WHAT YOU NEED TO KNOW

---
NO INJURIES, DRIVABLE VEHICLES, MOVE OFF
If you're involved in a minor crash on the freeway – one in which there are no injuries and the vehicles are drivable – move out of traffic and to the next exit.
---
WHY MOVE OFF TO THE NEXT EXIT?
We've all seen the videos – troopers hit by sliding cars.
IT'S SAFER for you the motorist, the troopers and any other first responders involved.
The road shoulder is a dangerous place for motorists and for first responders.
Moving off the freeway to the next exit puts both the motorists and the first responders in a safer place to exchange information and complete the crash report.
Every year, troopers are hit on the road shoulder, while assisting at a crash scene.
These crashes can be prevented when drivers move their vehicles off the freeway to the next exit.
---
IS IT LEGAL TO MOVE MY VEHICLE?
Yes.
The statute is Utah Code 41-6a-401(2)(a)(i-ii) and it states
if you've been involved in a crash that results in only property damage, you may

move your vehicle off the freeway as soon as possible to the nearest safe location on an exit ramp shoulder, a frontage road, the nearest suitable cross street, or other suitable location that does not obstruct traffic
---
DOES MOVING MY VEHICLE AFFECT WHO IS AT FAULT?
No.
According to Utah Code 41-6a-401(2)(b)
Moving a vehicle as required under Subsection (2)(a)(i) does not affect the determination of fault for an accident.
---
WHAT HAPPENS AFTER I MOVE MY VEHICLE?
The trooper will respond to your location and complete the crash report.
---
WILL A DISPATCHER TELL ME TO MOVE OFF THE FREEWAY?
Yes.
Dispatchers are required to have you move your vehicle off the freeway if it is drivable.
Please, listen to the dispatchers and do what they ask.
Oftentimes people refuse to move off the freeway or even out of the traffic lanes. This is very dangerous and can cause additional crashes.
In many urban areas, dispatchers have predetermined spots they will tell you to go – sometimes it's a park and ride or a retail parking lot.
They may tell you to just go to the next exit, make two immediate right turns and wait there for the trooper to respond.
---
UHP MEASURES CRASH MOVE OFFS
Our goal is to move 50% of crashes off the roadway for motorist and trooper safety.
Crash investigations cause traffic congestion and often result in secondary crashes due to traffic slow downs.
It can also put motorist and trooper safety at risk due to the dangerous nature of the road shoulder.
Quickly moving all involved vehicles from the roadway location (when possible) is an investment in motorist and trooper safety.
Dispatchers and troopers are trained to assess and organize moving crashes off the roadway, if appropriate.
The percent of crashes moved off the freeway is a metric reported in UHP's Quarterly Report on Critical Accountability and Dashboard Outcomes.