Early Criminal Interdiction
Communications were a problem from the beginning. If a Patrolman needed an ambulance or wrecker, he had to go to the nearest farmhouse and use their telephone to call for help. Truck drivers were usually willing to pass along a message or, with a chain, serve as a tow truck to clear the highway. When a patrolman was needed, a citizen had to try to locate one by calling businesses that the officer was known to frequent. In most towns, there was a business or telephone office that would hang out a red flag or turn on a light as a signal for the officer to stop for a message. Later, metal phone boxes were placed at intervals along major highways for the Patrol's use. This lack of communication made it difficult to locate and apprehend the criminal element. The following account is but one incident illustrating the dangers that faced these early patrolmen.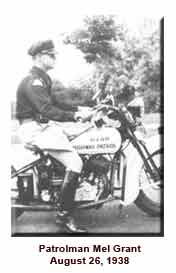 Captain L. L. Fryer was returning from Ogden, via US 89 one evening when he noticed a vehicle driving in an erratic manner. Captain Fryer stopped this vehicle and approached cautiously. The male driver and male passenger appeared extremely nervous. They were unable to provide a vehicle registration but claimed that the vehicle was theirs. Both suspects were able to produce identification; however, without a radio, Captain Fryer could not check for warrants.
During this brief encounter, Captain Fryer became suspicious and asked if these gentlemen would follow him to the Davis County Sheriff's Office. At this point, the passenger made a furtive movement, reaching under the dash of the vehicle. Captain Fryer quickly drew his weapon, getting the drop on the pair. Captain Fryer ordered both suspects to exit the vehicle, with their hands raised high. Captain Fryer discovered two weapons, a .38 caliber revolver and a .45 caliber semi-automatic pistol under the dash of the suspect's vehicle. Holding both men at gunpoint, Captain Fryer flagged down a passing motorist and requested that this motorist go call for help. When help arrived, the suspects were transported to the Davis County Sheriff's Office where it was discovered that the vehicle was stolen and both suspects were wanted in Nebraska for bank robbery.
Incidents such as this were not uncommon during the early days of the Utah Highway Patrol. Veteran officers developed what was called a "sixth sense." Today, detection and apprehension of such "bandits" is called criminal interdiction. Troopers are trained to recognize and interpret body language and other factors as a means of proactive patrol.