Trooper Randy K. Ingram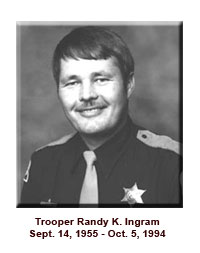 Trooper Randy K. Ingram, a 10 year veteran of the Patrol, was working Juab County the evening of October 5, 1994. He stopped a van loaded with Boy Scouts, for no visible taillights, approximately 14 miles south of Nephi. Trooper Ingram had a brief conversation with the driver and had returned to his patrol car to issue a citation. A southbound semi-truck driver fell asleep, drifting into the emergency lane and struck Trooper Ingram's patrol car. Proper positioning of the patrol car saved the scouts' lives, but Trooper Ingram was killed instantly.
Commissioner Doug Bodrero responded to the scene of this tragedy. Reaching inside the twisted metal that had been Trooper Ingram's patrol car, Commissioner Bodrero removed Trooper Ingram's badge. During Randy's funeral, Commissioner Bodrero said, "We live in a world of symbols." Holding Trooper Ingram's badge for all to see he added, "My belief is there is a special place in heaven for those who wear these symbols."
In March 1992, Trooper Ingram was asked which duty he felt was the most difficult to perform and why? He responded, "Accidents, because of the injuries and the deaths; there can be a lot of emotional stress. The responsibility I have to provide help could be the difference between life, death, or serious disability for the people we are trying to serve. You also have to try to forget your emotions during the actual event and perform to the best of your ability. Then, after you finish the detail, your emotions catch up to you and sometimes they stay with you for a very long time."
When asked what dangers are present in his duties, Trooper Ingram listed driving motor vehicles and standing on the highway in all types of weather and conditions as the number one hazard. Also listed was dealing with suspects that may try to kill or cause great harm, dealing with subjects that may transmit bloodborne pathogens such as AIDS and hepatitis, and dealing with hazardous materials encountered during accidents.
Randy served as a member of the Juab County Sheriff's Search and Rescue, a trooper with the Utah Highway Patrol, and a staff sergeant with the Utah National Guard. During the Persian Gulf War, he was activated for a period of six months in 1991. Randy was survived by his wife, Carlene, and two beautiful children; Megan, age four and Devan, age two. He was buried in the Nephi City Cemetery with full police and military honors.
The truck driver that killed Trooper Ingram pled guilty to negligent homicide on August 29, 1995, before 4th District Court Judge Steven L. Hansen.